HandWallet Business for Pocket PC
3.02
The most advanced tool for tracking expense & income and for planning budget. You can track your credit cards, bank accounts, savings, loans, coupons, mileage or cash.
HandWallet Business for Pocket PC Publisher's Description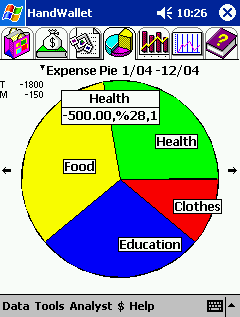 Support all devices in your organization.
If you change your type of PDA (PocketPC-Palm-Symbian) the license and the data remains.
Includes
all functionality
of HandWallet Pro.
Track
invoices, receipts, and Tax
.
Build product trees.
Price and quantity can be defined for each product in the tree.
Fully integrates with your existing organization systems
.
We will build the interface to online sync with your servers without any extra charge.
(*) Price is per 1 year (7$ a month). If you don't pay next year you may still use HandWallet Pro for life.

HandWallet Business is the most powerful finance tool in the market for business users.
With this software you will be able to track your:
- Sales
- Budget
- expense & income.
- Bank accounts
- Credit cards (American Express, Visa, MasterCard and more)
- Saving Accounts
- Loans
- Coupons
- Mileage and Cash transactions.
By knowing exactly what are your resources and on what you are spending them on you will be able to save money every month!
(*) AppForge Booster which is a free operating system extension is required for this software (included in the installation file). AppForge Booster is free for all devices including Pocket PC.
HandWallet is designed for PalmOS, Pocket PC / WinCE and Symbian OS.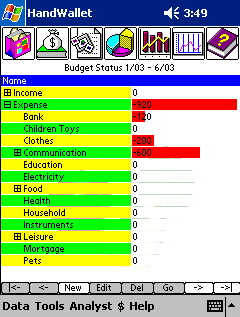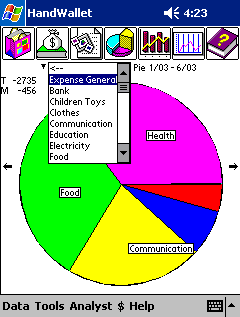 Find out why HandWallet is your best solution for managing your financial affairs.
Download HandWallet Basic for
FREE!
.
Upgrade to HandWallet Business
and become a professional banker!

Who uses the Hand Wallet Business?
Self-employed workers and owners of small businesses
For the self-employed and owners of small businesses HandWallet is useful for various purposes, from supervision of certain specific activities of the business up to the full management of expenses and incomes. Using HandWallet it is possible to know at each and every stage at what price merchandise was purchased or sold in the past and to whom. It is possible to compare prices that are given in different currencies and to choose the preferable option when there are different options open for the purchase of merchandise. the expected cash flow can be known in advance and according to this information delayed payments can be planned. HandWallet teaches you what your main incomes are during a certain period and what your main expenses are. HandWallet shows when it is worthwhile to transfer money between bank accounts and when it is profitable to take a loan and how to schedule it. It is possible to play with various parameters of each and every event such as the level of interest, the number of payments, the percentage of linkage etc. and thus to find the preferable payment option. Most importantly - the business data that you have chosen to feed into the system are with you everywhere on your PocketPC computer - at your business itself, at home, in negotiations with an importer and when you are abroad and examining new products.
Large companies
HandWallet Business provides the complete solution for a company representative who is on a business journey abroad. The HandWallet program greatly facilitates filling out the journey report for tax purposes: the traveler fills out all the expenses in real-time with the correct division into categories and according to predefined rules. He can know at any stage how must he has spent and on what, and can update the computer or the company accountant during the course of his journey. HandWallet Business allows you to enjoy all the advantages of its younger brothers, and in addition to insert the receipt or authorization numbers, the invoice and the tax percentage (if relevant) for each event. A Company representative equipped with a HandWallet can, while still abroad, insert expenses in a foreign currency and to see the increases in Dollars or Euros! Moreover, he can see the expenses and incomes that were performed in Dollars or Euros in the local currency and thus to easily compare prices.

Download online exchange rates, indexes and interests from the Internet directly to your PDA!

Manage your merchant account with HandWallet. Accept customer's checks and credit cards.

Weekly and biweekly actions are now fully supported.

Multilingual support including localization for different countries.
Look for Similar Items by Category
Feedback